There is nothing like a challenge to get me up and going again. I haven't wanted to post photos of my overgrown garden until I can get out there and tidy things up a bit. Until my back heals, squatting down and weeding is a definite no-no. So this blog has been very quiet for a couple of weeks.
Then I saw this on
Louise's blog
......................a blogfest!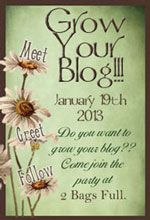 Click
here
for more details.
During the three years that I have been blogging I have found myself venturing out into different categories, and learning so many new things from fellow bloggers. My list is getting a little stale and maybe needs some re-vamping! So right on time! A challenge! I will be hosting a give-away on my blog this 18th, and hope to discover lots of new friends worldwide.
This has always been a slow time in my garden - right in the middle of the hot and humid wet season. Nothing new is planted, and what is growing has to be willing to stand up to the elements, so the garden is just coasting along, but that doesn't mean my blog has to do the same!